London is a great place to live, especially due to the fact that the English capital has something to offer for every taste. There are districts with vibrant urban atmosphere, places where life never stops for a second, high-end luxury estates and comfortable suburbs that will appeal to those looking for peace and quiet while still needing quick and easy access to the big commercial and financial districts in Central London.
Out of the 32 boroughs of London, Sutton definitely has good things to offer to all current and potential residents. Here we will try to explore some of the finest places to live in Sutton.
Cheam SM3
Cheam is a former village that is now a comfortable suburb. It preserves much of its original character and atmosphere. Moving homes to Cheam is easy, because it is served by one of the best removal firms in London, namely Domestic Move Co., but that's not the only reason the place is worth your consideration. If you are a fan of historic architecture, Cheam is not going to let you down. There are many listed buildings in the area, which include Lumley Chapel, Whitehall Gallery (built originally in the 16th century), Nonsuch Mansion and its park and many others.
Carshalton SM5
Another really nice suburb to live in is Carshalton SM5. The place is located 9.9 miles away from Charing Cross, right on the banks of the River Wandle. If you want to see the true epitome of the word picturesque, then you should indeed at least visit Carshalton. Carshalton Village is the historic centre of the modern-day district and home to the Grade II listed Honeywood Museum. At the present moment the population of the suburb is estimated to be 45 525.
Sutton SM1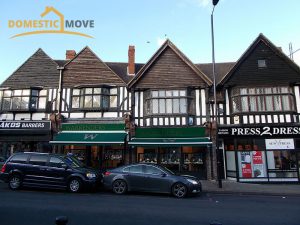 Naturally, we cannot talk about nice places to live in the Borough of Sutton without mentioning the principal town of the borough and the one that gives its name to it. Sutton is a curious mix of urban and suburban character and is the place where there is always something going on. Many of the Victorian houses in the town centre are protected which prompted the creation of several Conservation areas here. Sutton is well known for its public art, such as the Sutton Heritage Mosaic and the Wellesley Road mural, among others. The town has also been host to the Imagine Festival of Arts since 2006.
Worchester Park  KT4
Located in one of the southernmost corners of Greater London, Worchester Park is  an affluent community home to well over 16 000 people. The place has a very strong community spirit and is deservingly proud of the extensive list of distinguished past and present residents it boasts, which includes the likes of:
Former Fulham F.C. footballer and TV presenter Jimmy Hill
British decathlete Daley Thompson, who lived near The Plough public house
Author H. G. Wells, who lived here in The Avenue
The BBC's original TV football commentator Kenneth Wolstenholme
Director of the Parliamentary Office of Science and Technology Professor David Cope