Let's be honest and admit that none of your friends would be excited to help you move heavy and bulky furnishings through narrow stairways and corridors. This doesn't mean that they won't lend you hand because they will as they care about you. So the very least that you can do for your friends is to keep them happy during hauling day, and here is how you can do it.
Tip 1: De-clutter your home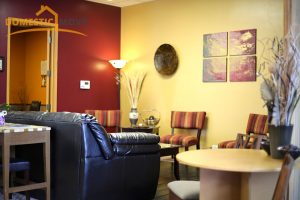 Navigating large furniture through staircases and tight corners is hard enough, so don't make the job even more laborious and frustrating by having random items spread throughout the floors of your home. Simply grab a basket, walk around your house, de-clutter all misplaced items, and arrange them to their respective places. Put away all shoes, and if necessary remove furnishings that may obstruct the way. Make sure that the pathway from the entrance to the room in which you will be placing your new furniture is free to move through.
Tip 2: Book a Lorrie ahead
Your friends will be lending you their spare time, so don't make them wait for a Lorrie. Instead, book the vehicle beforehand and have it come to the furniture store at least 15 minutes before your friends arrive. This way the job would be done more quickly and stress levels will be kept to a bare minimum.
Tip 3: Gather the necessary equipment
Even if you have the strongest friends on the planet, there are some pieces of furniture that are simply too heavy, bulky and oddly shaped to be lifted without the aid of professional tools. After all, the goal is to get your new furnishings into your home without causing property damages. So, if necessary rent or purchase moving equipment such as:
Furniture or floor dollies
Forearm forklifts
Shoulder straps
Furniture blankets
This way you and your friends will be able to life and haul anything more easily throughout your home and more importantly you won't be risking scratching or denting the surfaces of your furnishings or injuring your walls and doorframes.
Tip 4: Allow your friends to choose the moving soundtrack
Music makes even the most arduous job more enjoyable. However, you shouldn't hog the stereo system. Show your gratitude by allowing your friends to choose the tracks that you will be listening while lifting and moving heavy furniture.
Tip 5: Call professionals if necessary
Despite the good intentions of your friends, some jobs may just be above their abilities. If that scenario occurs, don't argue with them and instead seek professional assistance. You can have your furnishings easily moved and transported by licensed man and van specialists such as Domestic Move who provide top-notch furniture collections in London.
Bonus tip: Take your friends for a treat
Once the task is over and your new furniture has been brought in and set in place, take your friends out for a meal and few drinks. After all, there is no better way to celebrate a job well done and camaraderie then with tasty food and cold beer.