Moving your home is quite the overbearing chore, which few people are capable of readily handling. This is quite understandable, seeing that the activity itself involves a whole lot of planning and preparation. This is never enjoyable nor affordable, even if you decide to do it by yourself. This means that hiring somebody else to do it for you is always preferable, and one way to be sure that you would make the right choice is to hire our excellent services in Gunnersbury. We have a flawless reputation that we have worked tirelessly for years to earn, and it is well deserved.
Among the leaders of a very rapidly developing business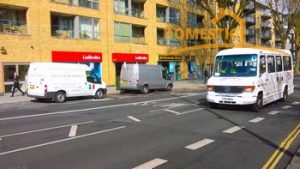 For the past couple of decades the pace of life has been getting faster. The need for moving around is in no way endemic to Gunnersbury, however we have decided to do our business there due to the favorable conditions. We strive to be the best around which is why we have always provided our clients with:
A proficient team
Excellent relocation tools
Rapid transportation
In term, we have a loyal customer base that are well acquainted with our quality of work, and know that we are the optimal choice for removals in W4.
We make no compromise with any aspect of our work
All of our relocation specialists in W4 have undergone a thorough screening process and initial training that ensures that they are the most careful and handy such workers around. They have yet to let down even a single one of our clients.
While often underestimated, the materials that are required to complete even the most simple of relocation jobs are somewhat expensive. Luckily for you we employ only the best packers and packing resources.
Our movers do their job and clients share
A to Z removal handled with ease
"Your team helped us a lot when we were preparing for our domestic removal. On the moving day itself the technicians you sent were very helpful as well. They assisted us with dismantling a big wardrobe we were having trouble with, then pack it and load it on the truck. Everything was done without delays of any sort, which we are happy about too."
Andrew M., 17-05-2017
Our lorries and loutons are the envy of our competitions.
Rapid and safe transportation
is guaranteed by our veteran drivers.
We are always a call away
We understand that the main selling point of our services is the extreme convenience that we ensure our clients receive on a consistent basis. We have made sure that we are easily reachable either by phone or online every day all day. All of our work comes with all-encompassing insurance. We want our services to be as affordable as humanly possible. This is the reason why we always calculate our costs on an individual basis, offering our clients the lowest cost in Gunnersbury possible every single time.
The London borough of Hounslow sits alongside the banks of the river Themes, just west of the city center. Gunnersbury is a renowned district within in. The region is famous for the large amount of pre-war housing that it contains. A notable regional landmark is the British Standards Institution building.
Domestic Removals in Greenwich
House Removals Grove Park, SE12
Household relocation Hackney
House moving service Hackney Marshes