We are a business that delivers the best moving house services in Gallows Corner. What is more, we never overcharge our customers. The people we employ are very experienced, motivated and dedicated to their work. The company's vans, on the other hand, are fully serviced, heavily equipped and GPS-navigated. All of that allows us to provide our RM2 and RM3 clients quick and smooth household removals. We don't shy away from bookings that were made on a short notice, because:
We are flexible when it comes to our schedule
Our team of professionals is very organized
The capacity we have is quite big
Our drivers use modern trucks and van and always take the shortest route
Thorough domestic removals in Gallows Corner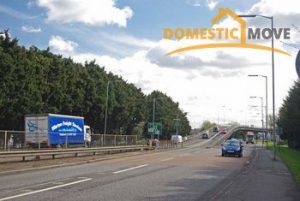 We know how to do our job in a time-efficient way, because we are one of the most vetted removal teams in Gallows Corner. But while we can execute a moving home project in a short amount of time, we do not achieve that at the expense of the quality our customers receive. Regardless of the nature and the scale of your relocation, 100% customer satisfaction is always guaranteed with us. That is because our staff:
Carries out meticulous house viewings with which they accurately appraise the complexity of each separate project
Is made up of experts who were carefully selected and properly trained
Has amazing packing skills
Enjoys access to advanced and reliable equipment and transit vehicles
Customers' Testimonials
Very secure service
"I love growing flowers and it was not a problem until I had to move and started worrying about breaking pots and plants in the process. Your men assured me that they can make the arrangements necessary for the safe transportation of our flowers and they kept their promise, which is why I am glad I chose you."
Jennifer W., 09-05-2016
Solid service for good money
"When moving with kids, it is very important to make all the arrangements necessary in advance. It was a good thing that we had your firm to fall back on the logistics of our home removal – it helped us a lot to make the transition for our little ones less stressful as well."
Ben P., 24-08-2017
Good value for money paid
"My daughter was moving out and going to college and our car was not big enough to fit all of her stuff at one time, which is why we hired you. We paid a respectably low fee for a good service that made this important transition in our daughter's life smoother and less stressful than it could have been."
Harry C., 13-07-2017
RM2, RM3 packing services that will suit your needs
Even if your items are transported with the latest and fanciest moving vans, they can still get damaged. That is why we have a dedicated team of packers that will thoroughly prepare each possession of yours using their professional skills and our modern supplies. Clients can also choose to have the packing materials delivered to their home, if they prefer to pack on their own. In that case, the delivery will be completely free-of-charge. Clients who already have too much on their hands, however, will certainly appreciate our specialized packing solutions. Relying on the help of our packers is not only smart, but very affordable as well.
Gallows Corner is located not far from Romford, in the east of London. The distance between RM2, RM3 and Charing Cross is about 25 km. The locality is well-connected to areas in Romford, East Anglia and the central part of the English capital thanks to a major road junction.
Domestic Removals in Fulham
House Removals Fulwell, TW11, TW12
Home Removals Gallows Corner, RM2, RM3
Household relocation Gants Hill
House moving service Gidea Park