London is a metropolis with quite many faces. There are the big financial districts that are to be found in the most central parts of the capital, especially the City and Canary Wharf in Tower Hamlets; the big comfortable suburbs of North London; the industrial estates to the east and of course, the bohemian quarters for the more artistically inclined among us. Here we are going to take a look at some of the most important places that fall into the last category. They are all pretty iconic, popular and of course – appealing to all tastes and senses.
Chelsea
Well, we are starting off cheating a bit. On the other hand, we cannot talk about bohemian London without mentioning the district of Chelsea. Its strong literary and artistic connections make it the forefather of all bohemian neighbourhoods.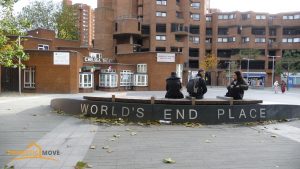 Chelsea attracted all sorts of creative types in the 19th century mainly because the local slums offered cheap living accommodations and even cheaper food and drinks. As we all known, those are very important things, especially for the young and eager to work writers, painters and thespians. Later on, Chelsea was at the helm of the Swinging Sixties Movement of the 20th century, which yet again put it on the map of cultural London. Today it is one of the most fashionable districts in the capital, and the most expensive ones – it is definitely suitable for bohemians of higher means. But the old spirit of the area still lingers on in the galleries and art venues that are spread all over the place.
Camden
Located in West London, near Charing Cross, Camden is reputed for its young, vibrant community. No matter which part of the borough you choose to move to, such as Highgate, or the more upscale Holborn, you will be making the right choice.
Camden is a modern centre for alternative culture and home to such places nourishing its bohemian spirit as:
Camden Arts Centre
Dickens House
Keats' House
The Roundhouse
If you are willing to live in the liveliest and hands down, the best place in London today, we at Domestic Move London will gladly take up the task of helping you move there.
Soho
Reputed for a nightlife must-go and its long lines of shops specialising in the erotic arts, Soho fell into relative demise in the last couple of decades of the 20th century. Today there are many different projects aiming at bringing back the old glamour and glory of Soho. Meanwhile however the neighbourhood became a popular and desirable residential area, especially for young people drawn by the name of Soho. Many students, artists and people generally employed by the entertainment and creative industries live here, which makes Soho a modern example of a bohemian district. It is a place that you definitely check out. Things are looking out good for Soho, so you might want to dip in before property and rent prices begin sky rocketing here too, much like other parts of London.