Although most people in London still prefer to live in a spacious Victorian or Georgian home, the market for high-rise apartments has been enjoying a steady growth over the last one decade. That is because many single individuals, young professionals and couples find such apartments more suitable for their lifestyle. If you are also planning to move into a high-rise building, you must keep in mind that apart from the regular planning and packing, you will also need to do a few other things like to:
Speak to the manager of the building
Check whether you will need a parking permission
Say goodbye to some of your furniture
Familiarise yourself with the building's policies
If you have never lived in a high-rise apartment before, you probably have no idea that such buildings have some strict policies and rules. That is because they have many tenants and this means that whatever you do, you must not disturb their peace. It is best if you discuss this matter with the building's manager. Also, you may be asked to make a reservation, otherwise you will not be allowed to organise your relocation. That can create some inconveniences since it may force you to schedule your move on a day selected by the manager of the building and not by you. Still, those are the rules and you must follow them if you want to be on good terms with your new neighbours.
You may not be able to take all of your items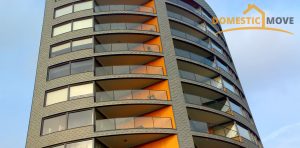 The problem with high-rise apartments is that in most of the cases, they are smaller than an average semi-detached or detached home in London. Also, the fact that you must carry heavy boxes and bulky furniture up the stairs or to somehow fit them in an elevator is enough to turn your relocation into a nightmare. Be mentally prepared that you may need to get rid of some of your possessions and furniture before the move. That is because it is hardly likely that all of your items will be able to fit through the entrance door of the building and through that of your apartment. What is more, if they are too heavy, they will not be allowed in the elevators. Make sure you carefully measure the doors and every big piece of furniture and home appliance that you have a few weeks prior the moving day. If you fear that the size of some of your belongings is not suitable for your new home, you will need to sell, throw or give them away.
Think about the building's location
Many of the high-rise apartment buildings in London are set in central locations like Fulham SW6 and Hammersmith W6, for example. This usually means that you may need to get a parking permit, especially if you are planning to hire a van or to use the services of a professional team of movers. It should be noted that making parking arrangement can take up a lot of your free time. However, many licensed removal business in London take care of the parking permissions on behalf of their clients.