Nowadays, staying in shape has turned into something like an obsession. That is why many people have exercise equipment or even an entire gym in their homes. It is only when they decide to move house when exercise maniacs realise that the real workout is yet to begin. The trouble with moving exercise equipment is that many gym machines are:
Very heavy
Not foldable
Hard to lift
But just like every problem, this one also has a solution.
Clean it before you move it
It is scientifically proven that gym equipment can get incredibly dirty. The more you use your exercise machines, the more infested they will be by sweat, dirt, bacteria and microbes. You probably don't want to turn your new home into a microorganism paradise so our advice is to thoroughly clean your equipment before you start prepping it for the move. Wash your towels and workout apparel in the washing machine. Also, wipe all the surfaces in your home gym – handles, yoga mats, exercise bike seats and etc.
Moving small and light equipment
This category covers items like your workout clothes, yoga mats and exercise blankets. Once you clean and wash them, you can pack them in moving boxes. You don't need any special packing materials for this purpose. Just don't forget to roll your mats and clothing to save up space and to tape the boxes well.
Moving small and heavy equipment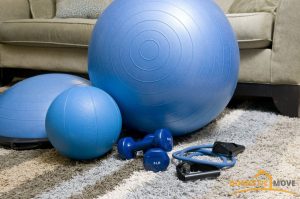 Not all small gym-related items are light like a feather. Dumbbells and hand weights are a perfect example of that. Again, you can use moving boxes to move this type of exercise equipment. Nevertheless, avoid packing your weights into a big cardboard box. Instead, place them in separate small boxes and secure the bottom of the box with a tape. That will prevent it from opening or tearing when you lift it. If you are struggling to lift or carry the boxes, you can put the items in crates that have handles. Wrap each of the items with bubble wrap or a moving blanket for additional protection.
Moving large gym machines
If you have exercise equipment like a treadmill, rowing machine, an elliptical trainer or a stationary bike, you will need to have a specific strategy when it comes to the packing, lifting, loading and unloading of this category of items. Depending on the model of your machine, it may weigh as much as a piano. But while moving a piano always requires pretty much the same strategy and tools, moving gym equipment is a different story. For instance, a treadmill or a rowing machine can easily fold. Elliptical trainers, on the other hand, can't and so they must be disassembled. If you are not sure how you should move your exercise equipment read its manual or ask a team of skilled domestic movers in London to assist you. Still, no matter the brand or the category of gym machines you own, make sure you unplug and clean them. Also, put floor protectors under them and use moving trollies or you may scratch the floors in your new house.