One of the most exciting places to live in the English capital is certainly Central London. Unfortunately, this part of the Big Smoke is filled with tourists… which has its pros and cons.
Disadvantages
The most apparent disadvantage of living in a district that is popular among tourists is that it is incredibly crowded. That usually means huge traffic, not enough parking space and a lot of noise. Sounds like a nightmare, right! Tourists are also a magnet for thieves which means that if you move home to such a place, you will be constantly surrounded by scammers and robbers.
As a rule of the thumb, everything costs more in a tourist area. That includes not only property prices but also most other expenses related to food, clothing, travelling and etc. Even if the district is tiny in size, the cost of living will always be sky-high.
Life in a tourist-infested place is rarely appreciated by families since such areas do not offer a sense of community. Even if you were born and raised in the area, you won't get the feeling of cosiness that can be found in most other residential districts in the city.
Advantages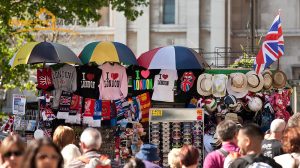 If you are living in a district that has a high concentration of tourists, it means that there is at least one unique landmark or sight nearby. It is definitely nice to have the chance wake up and see a world-known attraction like Tower Bridge, Westminster Abbey or Big Ben throughout your window.
Another great benefit of living in a tourist area is that you will have easy access to first-class amenities like cafes, restaurants, shops and parks. There will also be plenty of banks and ATMs in the district and all of the public spaces and roads will be maintained in a neat and presentable condition.
Public transport will also be excellent, enabling you to reach any part of the capital with a short trip on the train, bus or the tube. Plus, you won't need to travel for hours to get to an international airport.
Find the happy medium
Living in a busy tourist area is not for everyone. However, there is an easy trick that will allow you to enjoy all of the advantages it offers without having to deal with many of its disadvantages. London has many centrally-located districts that are not as crowded as you think they are. Take the London Borough of Greenwich for example. It is one of the most tourist-friendly boroughs in the English capital since the district of Greenwich SE10 is home to numerous attractions like Cutty Sark, National Maritime Museum, Royal Observatory, Greenwich Market and more. However, most of the other areas in the borough, like Charlton SE7 and Eltham SE9, offer a much more limited selection of landmarks and are thus not too busy yet very well-connected and close to high-quality amenities. So, if you are looking to move to a quiet and laid back area that offers plenty of conveniences, use this strategy.