If we have to describe the Borough of Harrow in just a few quick words we would say that it is green, safe, diverse and, for the most part, family-friendly. About 25% of its territory is covered in parkland and green open spaces and the crime rate here is among the lowest in London. That and the presence of outstanding schools in the region, make it very attractive for young families. The local population is made up of various ethnic groups which is why the borough is so diverse. There are less than 20 districts in the London Borough of Harrow and the most notable of them are:
Pinner
Stamford
Hatch End
Harrow
Belmont
Harrow on the Hill
Roxeth
Queensbury
Wealdstone
Harrow Weald
If you want to learn more about Harrow, you will first need to take a closer look at some of these areas.
Best shopping area in the borough
The borough and its administrative hub share the same name. The suburban town of Harrow is viewed as the commercial centre not simply of the Borough of Harrow but of the entire north-western part of London. That is why this has become the ultimate spot to which you should come if you love to shop. The town has not one but two large shopping centres and big shopping street.
Hidden among the town's many stores is also a big university – the University of Westminster. The institution was first opened back in 1838 and it was the very first polytechnic university in the United Kingdom. Among its most notable alumni are fashion designer Vivienne Westwood, Nobel Prize winner Sir Alexander Fleming and Olympic cyclist and record-breaker Herbert Gayler.
All of these things make the town of Harrow a great place for families. Therefore, if you are looking for a new neighbourhood to settle in together with your spouse and kids contact a trusted team of movers in Harrow HA1 and start planning your move.
Affluent and desirable districts
Since Harrow is home to many prestigious educational institutions (some of which are even private), people living outside of the borough often assume that many, if not all, of the districts in that part of London are expensive. That, however, is quite the overstatement because property prices in the Borough of Harrow tend to be quite acceptable for a city like London.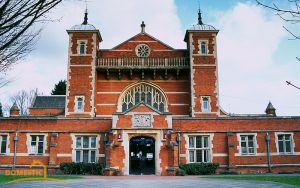 Well, there are a few exceptions. Some of the neighbourhoods in Harrow are not only very attractive for home buyers but there are also on the high-end side of the property market. The most obvious of them are Pinner, Stanmore and Hatch End. The latter is actually part of the district of Pinner and it has a population of just a little over 10,000. Still, Hatch End is among the most desirable areas in London since it is a quiet, well-connected and an incredibly green place. It has good restaurants, many open spaces and leisure facilities, as well as an entire arts complex known as Harrow Arts Centre. Amenities in the district are also abundant and the presence of Domestic Move's professional moving experts in Hatch End HA5 can make your move there quite easy and stress-free.
High and remote
The London Borough of Harrow also has a few quite special districts on its territory. One of them is Harrow on the Hill. The area is set on Harrow Hill and, with an altitude of 124 metres, it is one of the highest places in the English capital. Harrow School is situated namely here. This independent boys' boarding school is among the most expensive ones in London and it is considered to be among the best of its kind.
Harrow Weald is yet another district in the borough with an impressive altitude. Harrow Weald Common is set at 145 metres above sea level. A great part of the area is woodland and it is a Site of Special Scientific Interest. Harrow Weald is also very remote since it sits on the very edge of Greater London. And yet, those intending to move to the area do not need to do it alone since it is not difficult to find efficient house removal services in Harrow Weald HA3. Families who want to relocate close to Harrow School, on the other hand, can benefit from moderately priced moving services in Harrow on the Hill HA1.