There are now a lot of studies available that suggest moving homes is among the most stressful experiences that a person can go through in their life. This is not good news to anyone who is concerned with the organization of an upcoming domestic removal in Bromley, especially in a city as big as London.
No matter how tough your moving day went however, there are several things that you can get down to doing in order to make sure that you can unwind and regain your power and consciousness quickly, and thus take out most from the experience. Here are several suggestions:
Just do not rush things
In the months prior to your relocation you have most probably followed a strict and busy schedule – about finding a moving company, packing and other aspects of the project that were necessary for its proper execution. When maybe now, when you have all your boxes delivered, and you are finally settled down at your new place, you can afford not to rush things too much. Instead of trying to unpack and arrange things immediately, you might want to slow down. No one says that all the furniture has to be assembled in the next couple of days. Take your time and focus on the essentials. Work a room at a time and never forget that there is always tomorrow. There is likely to be a lot of hassle for you at work, so no need to let it enter your home too, right?
Go out and explore your new place of residence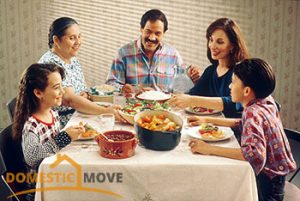 If you have not moved across the street but rather across the city, it is very likely that you find yourself in a place that is totally unknown to you. That is one of the good things about London – it covers a huge territory (well over 1500 square km) and it is very versatile. This means that you can spend your whole life living here and you are still likely to find new things every day. So check out what the part of the metropolis you have just arrived in has to offer to you, in terms of amenities, landmarks, cultural institutions, open green spaces etc. It will be interesting for you, and it will also help you take your mind off all the stress you have been going through lately, as a result of your relocation.
A family dinner
No matter whether you have brought some canned food, you decide to cook something simple but tasty, or you go out to what has the potential to be your next favourite restaurant in your area, a family dinner after the moving day would be just the thing you need and want.
Housewarming party
Nothing fills a new home with more positive vibes than gathering your friends and loved ones to celebrate the end of your house removal. Remember, nothing wild and too rock n' roll is needed – just to have your closest people around you would be enough to have  a great housewarming party.